Asia's Biggest Economic Challenges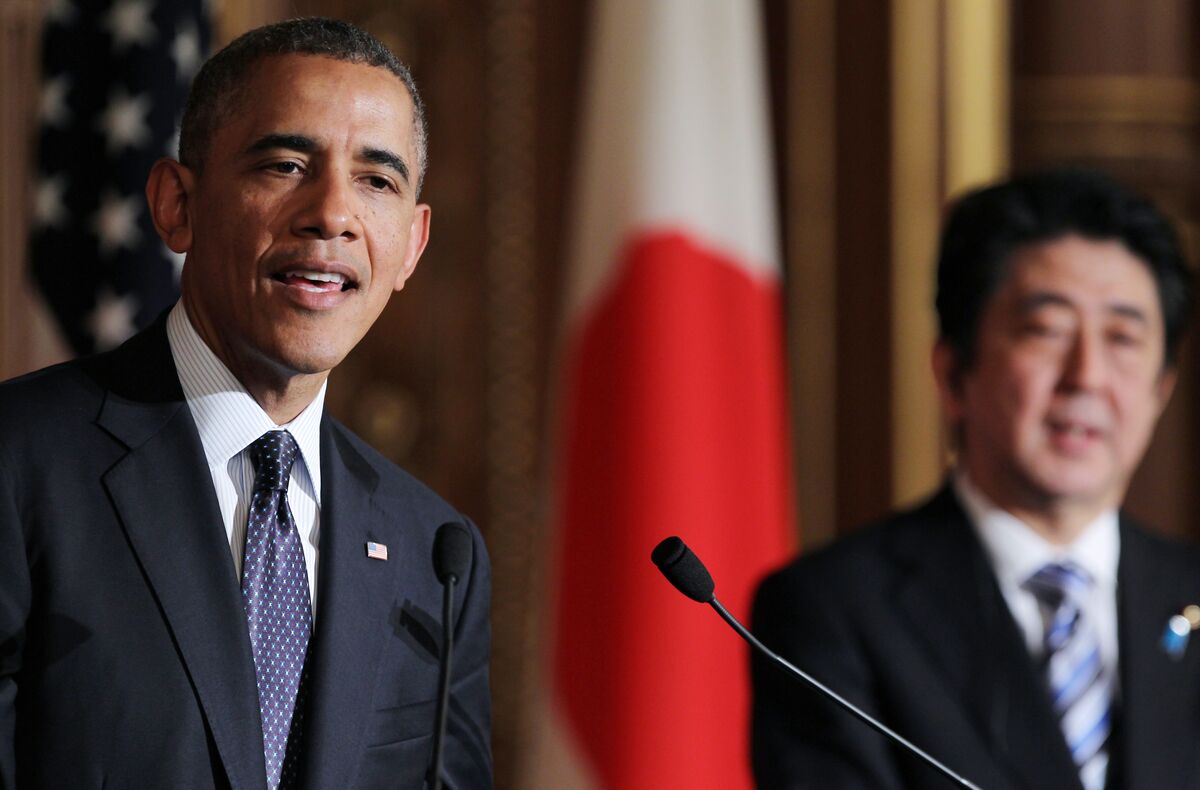 Barack Obama could offer Shinzo Abe some perspective.
Photographer: Junko Kimura-Matsumoto/Pool via Bloomberg
When he travels to Asia this week, U.S. President Barack Obama will find himself in unfamiliar territory: not Asia, which he visited just last year, but amid leaders who enjoy popular mandates, negligible political opposition or both. That makes their reluctance to do big things all the more mystifying -- and inexcusable.
Leaders of the region's three largest economies -- Xi Jinping of China, Shinzo Abe of Japan and Narendra Modi of India -- have sold themselves as tough-minded reformers, prepared to pursue long-overdue structural reforms. Yet thus far, all have adopted incremental approaches, making modest changes that are worthwhile but fall far short of what's needed to ensure vibrant and sustainable growth.
Gradualism is not good enough. The democratically elected Abe and Modi will never have more political capital than they do now (Abe's approval ratings have dropped almost 30 points since hitting early highs), and while Xi needn't concern himself with voters, he does have to worry about politics. And all these changes entail political costs.
In all three countries, difficult reforms will only become more so with time. Chinese growth, for example, could slow to between 1 percent and 3 percent without major reforms, increasing the chances of social unrest and outright financial collapse. Japan's debt load continues to swell dangerously, while India desperately needs to find better jobs for tens of millions of poorly educated and underemployed workers.
True, big changes take time, as Obama can testify. But Asia's leaders could better demonstrate their seriousness. In China, which laid out an impressive-sounding list of 60-odd reforms last fall, officials need to turn slogans into laws and regulations. To reduce the sway of state-owned enterprises, for instance, they could produce a so-called negative list of companies that are off-limits, thus opening up others to potential privatization. Changes in the hukou permit system that limits labor mobility need to be expanded from small cities to the biggest ones, where most jobs are.
Authorities could also prove that they really are willing to accept a greater role for the market, even if it reduces the influence of the Communist Party. Rather than pursuing corrupt officials on an ad hoc basis, Xi could empower financial regulators to prevent irresponsible lending and sweetheart deals. He could force state-owned enterprises to make their balance sheets more transparent, even to face bankruptcy. If he truly wanted to eliminate patronage and corruption, he would encourage "sunshine laws" that require officials to disclose their assets.
Similarly, Japan's Abe could greatly expand his initial efforts to increase the role of immigrants and women in the workforce; a visa program for highly skilled immigrants would be a good idea. He could strengthen his campaign to improve corporate governance by curbing cross-shareholdings between friendly companies. Most important, he could stop coddling the farm lobby that continues to hold up progress on the Trans-Pacific Partnership free-trade pact. A deal would crack open some of Japan's most ossified and sheltered sectors -- exactly what Abe claims to want.
In India, where Modi's Bharatiya Janata Party now controls states that account for more than 50 percent of the country's gross domestic product, the prime minister could push state leaders to start experimenting with land and labor reforms that remain difficult to pass in New Delhi. He could also do more to overhaul India's financial system, which currently starves businesses and infrastructure projects of affordable capital. If he wants to tackle India's structural inflation problem -- an issue that won him the last election and could cost him the next -- he also needs to begin the difficult transition from food subsidies to cash transfers for the poorest Indians.
No doubt Asia's giant economies can muddle through a bit longer. Japan and China have shown that they're ready to expend huge monetary and fiscal resources in an effort to bolster growth, while India is benefiting from an uptick in investor sentiment. The long-term problems they face are not going away, though -- and the conditions for fixing them are never likely to be more favorable.
To contact the senior editor responsible for Bloomberg View's editorials: David Shipley at davidshipley@bloomberg.net.