Supreme Court's Next Chance to Kill Obamacare
The other conservative Supreme Court justices have decided, it seems, to put John Roberts to the test on the legality of the federal Obamacare exchanges.
by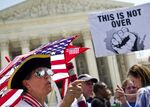 Thought you were done with the U.S. Supreme Court and health care? Think again. The court has agreed to review the question of whether the federally created health insurance exchanges violate the law's expectation that the exchanges be created by a state. Reading the tea leaves can only tell you so much about what the court is going to do. But from the standpoint of the Barack Obama administration, there is reason to be curiously concerned that the president's signature legislative accomplishment is in jeopardy once again.