How Much Is a Xi-Abe Handshake Worth?
The leaders of Japan and China may shake hands next week. Just don't expect them to do much more.
by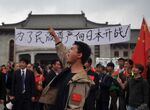 Meetings, John Kenneth Galbraith said, are indispensable when you don't want to do anything. Rarely will that observation prove truer than next week, when Xi Jinping and Shinzo Abe may sit down together for the first time.