view
Friday Baseball Blogging: Who Makes the Hall?
Winter means it's time to think about the Hall of Fame.
by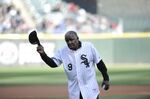 Winter means it's time to think about the Hall of Fame. This year, the Veterans Committee, which currently rotates through players from different eras, is considering ten nominees: Dick Allen, Ken Boyer, Gil Hodges, Bob Howsam, Jim Kaat, Minnie Minoso, Tony Oliva, Billy Pierce, Luis Tiant and Maury Wills.
I'm with Christina Kahrl on Minoso: He should clearly go in. As she says, he's second to only Mickey Mantle in Baseball-Reference.com's wins over replacement from 1951 to 1960 in the American League. Now, granted, that's exactly the kind of selective clipping we should always be careful of. It shouldn't have to be said, but there's nothing special about a player whose most productive years line up so well with the beginning and end of a decade (e.g. he was the second best player in the 1950s), especially since those 10 years encompass almost all of Minoso's productivity. His career worth around 50 wins is a bit shy of Hall standards.
If any players deserve a break, it's those who were robbed of full MLB careers by racism. Minoso didn't reach the majors until 1951 primarily because of the slowly disappearing color line. He was 28 by the time he made it, meaning that a large part of his potential was never realized at the major league level. From the time he made it, though, he had a Hall of Fame career. We don't have to be very generous grant him another 10 or 20 major league wins due to missed time which takes Minoso from a fringe player to an easy choice for the committee.
The rest? I don't quite have anyone else I'd vote for. Dick Allen is a very tough call. His off-the-field contributions are difficult to parse and his record as a player puts him squarely in the maybe zone. I've gone back and forth but right now I'm inclined to oppose him. Ken Boyer? Also a maybe. Third basemen are under-rewarded by the Hall's voters, generally. Still, Boyer was a star for only a relatively short period.
I don't think Jim Kaat and Luis Tiant would be terrible choices. Kaat's overall value may not be particularly high but, to me at least, his longevity is a big deal. Tiant is at least as deserving as Jim Bunning, Catfish Hunter and Don Drysdale. Neither would be glaring omissions, however.
I'm less impressed by the case for Billy Pierce. He doesn't stand out against the broader group of good-not-great players. Tony Oliva and Gil Hodges aren't close and Maury Wills deserves an exhibit, not a plaque. As for Bob Howsam, I'd have to do more research than I'm willing to do right now. My memory is that he was as responsible for the collapse of the Reds after their glory years as he was for building the Big Red Machine.
Does anyone have convincing thoughts, one way or the other?
(Corrects the first name of Gil Hodges in the sixth paragraph.)
To contact the author on this story:
Jonathan Bernstein at jbernstein62@bloomberg.net
To contact the editor on this story:
Alex Bruns at abruns@bloomberg.net
Before it's here, it's on the Bloomberg Terminal.
LEARN MORE