Editorial Board
Congress's Job for the Missing Workers
Republicans will need to offer better ideas to get people back into the job market.
by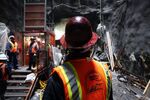 The latest data from the Labor Department offer some hope about the U.S. job market. To bring employment back to normal, however, it will probably take a lot more than what Republicans, who will soon control both houses of Congress, have so far proposed.
QuickTake Monthly U.S. Jobs Report
The headline jobs numbers look good. Nonfarm payrolls have grown at an average rate of 228,500 a month this year, reducing the unemployment rate to 5.8 percent in October from 6.7 percent in December. Such indicators, though, cover only those who are working or are actively pursuing a job -- something many have stopped doing. Yes, the Labor Department estimates that the labor force grew by 416,000 workers in October, meaning some of those workers are coming back. Still, even among people in their prime working years, the share of the population employed remains far below its pre-recession level.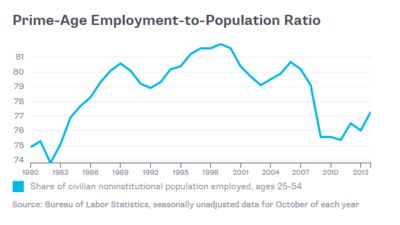 Getting those people back into the labor force is crucial to restoring the economy's productive capacity. If they stay out, the Federal Reserve's efforts to support the recovery will start to fuel inflation sooner than it otherwise would, as demand for workers outstrips supply. That, in turn, could force the Fed to change course, effectively giving up hope on restoring the livelihoods of millions of people.
So far, the faster pace of job creation hasn't coaxed enough people back into the labor force. As of October, the seasonally unadjusted participation rate for people age 25 to 54 stood at 81.1 percent, up 0.3 percentage point from a year earlier but about 6 million people below the 10-year pre-recession average of 83.5 percent. The brightest spots are 16- to 19-year-olds and Hispanic men, who have seen increases of 1.4 and 1.3 percentage points, respectively, over the past year. Also, more older folks are staying in the labor force, most likely to supplement inadequate retirement income.
Here's a breakdown by age: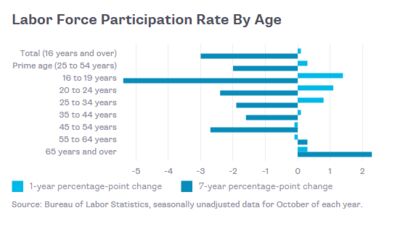 Here's a breakdown by sex and race:
Here's a breakdown by education: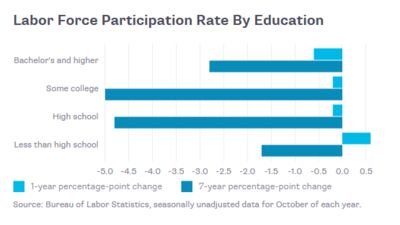 The one thing the U.S. hasn't tried -- at least since 2009 -- is a government spending program focused on getting people back to work. The International Monetary Fund and U.S. economists have argued that investment in the country's crumbling infrastructure could actually improve the government's finances by boosting growth more than debt. It would certainly be better than the ideas -- such as rolling back Obamacare, watering down financial reform or approving the long-stalled Keystone XL oil pipeline -- that Republicans have offered in the wake of their midterm election victory.

--Editors: Mark Whitehouse, Michael Newman.
To contact the author on this story:
The Editors
To contact the editor on this story:
David Shipley at davidshipley@bloomberg.net
Before it's here, it's on the Bloomberg Terminal.
LEARN MORE