Next Ebola Challenge: Spending the Money
Obama wants $2 billion for health care in West Africa. But his administration has struggled to spend what's already available. 
by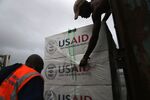 President Barack Obama is asking Congress for $6 billion in emergency funds to fight Ebola, including $2 billion for the U.S. Agency for International Development to spend on health care in West Africa. But an analysis of federal spending shows that in the five years leading up to the Ebola outbreak, his administration struggled to spend the money Congress had already made available.