Needed: Another IBM Re-Invention
IBM has used its cash flow and debt buy back shares and boost its stocks, but that strategy may nt holdup and the company's businesses generate less cash.
by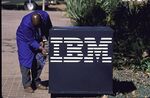 Most everyone hopes that Ginni Rometty, International Business Machines Corp.'s chief executive officer, can make Big Blue grow again. It's a legendary company, a blue-chip stock and a huge employer (431,212 people at last count). And it's one of the few tech companies that has survived multiple rounds of wrenching technological change and thrived.