Milk Sours in U.K. Supermarket Wars
Dairy Crest Group is getting out of the milk business, as a supermarket price war crushing U.K. food prices hurts both dairies and retailers.
by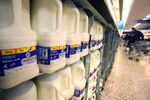 The U.K.'s increasingly fierce supermarket war has claimed another victim: Dairy Crest, the nation's biggest dairy producer, is getting out of the milk business. Milk prices are down more than 22 percent this year, making it 10 percent cheaper for U.K. shoppers than the average for 15 European Union countries, so it's impossible to make money without economies of scale. The saddest part is that both the supermarkets and the dairy companies are suffering in the battle.