How to Put the Chill on Teen Sex
Teaching kids about sex, and making them think about it, is a more effective way of preventing them from having sex than promoting abstinence.
by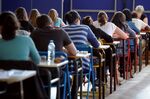 Back in July, I argued that there is growing evidence that liberals have found a way to preserve traditional families in our modern, disconnected, wealthy society. Now, I'm seeing some evidence that liberals have found another way to out-tradition the traditionalists -- curbing teen sexuality in the face of modern media.