Will the New Congress Bring Economic Renewal?
The markets hope a Democratic president and Republican Congress can replicate the successes of the Clinton era. They may be too optimistic. 
by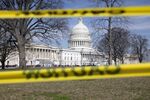 In their shellacking of the Democrats, Republicans did more than gain control of the Senate in yesterday's midterm elections. They also increased their majority in the House of Representatives to a level not seen for many decades, raising speculation that President Barack Obama may have no choice but to accommodate many Republican priorities in his remaining two years in office.