Why India's Airlines Can't Take Off
India is one of the fastest-growing aviation markets in the world. So why can't any of its airlines make money?
by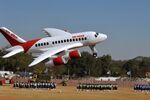 For airlines, Asia's skies aren't terribly friendly. According to data compiled by Bloomberg, six of the 10 initial public offerings by airlines in Asia during the past five years are trading below their sale prices. Legendary investor Warren Buffett, who swore a decade ago never to invest again in the airline business following his losing $358 million bet on US Airways, is surely feeling vindicated.
India should stand out amid this grim landscape. Passenger traffic has grown rapidly over the last decade. At its peak between 2003 and 2009, traffic grew somewhere between 20 and 40 percent per year. Growth hardly slackened even after the economy stalled in 2013: Traffic that year was up 5 percent over 2012.
Packed airplanes, however, have not led to profitable airlines. The one success story -- somewhat profitable Indigo -- is far outnumbered by the failures. Kingfisher Airlines has been grounded. Once high-flying Jet Airways is on life support; SpiceJet is up for sale. State-owned Air India has accumulated losses of $5 billion -- contributing more than 60 percent of the $8 billion in total losses for the sector as a whole.
As Buffett can testify, airlines are inherently a high-cost business in terms of equipment, fuel and manpower. In India, the role of the government has made them virtually unviable. Fortunately, this means that at least some of the headwinds currently facing the industry can be lifted.
The most easily addressed problem is the exorbitant rate of tax imposed on aviation turbine fuel. Currently, states are allowed to set their own rates, which average around 30 percent. Only some small states have moved to slash rates to 4 percent in a bid to attract airlines. Prime Minister Narendra Modi has promised to implement a nationwide goods and services tax, which would impose a uniform rate somewhere between 12 and 16 percent. He should stick to his pledge against opposition from some state governments, which are lobbying hard to exempt jet fuel from the GST.
Air India poses a more difficult challenge. If its outstanding loans are included, the state carrier is $12 billion in the red. Despite that, Air India continues to slash fares in an effort to undercut competitors. It can afford to "compete" only because it is living off a $5 billion bailout announced in 2012.
This zombie existence, fueled by taxpayers' money, seriously distorts India's aviation market and prevents appropriate price formation in terms of airfares and landing fees. Air India has been unviable for far too long. It clearly cannot reform its bloated workforce and inefficient management under government ownership. It must be privatized -- something that Finance Minister Arun Jaitley earlier this week hinted might be a possibility.
The third problem requires a more long-term solution. At the moment, almost 70 percent of India's air traffic connects six big cities -- Delhi, Mumbai, Chennai, Kolkata, Bangalore and Hyderabad. This is a limited and brutally competitive market. There is a much wider market to tap in smaller cities and towns. Despite rapid growth in air traffic, only 61 million Indians traveled by air in 2013 -- out of a population of 1.2 billion. The scope for further expansion is huge.
What's needed is better and more expansive infrastructure. Past governments, working through the inefficient Airports Authority of India, have neither invested in airports in smaller towns, nor opened them up to private-sector development. Modi's government says it plans to build 200 low-cost airports over the next 20 years. There's also a strong case to be made for expanding the number of airports in the big cities. That will introduce competition and lower landing and parking fees, and should allow low-cost airlines genuinely to exploit their model.
Of course, existing monopoly airports will resist, but the government should stand firm. By some estimates India will be the third-largest aviation market in the world, behind China and the U.S., by 2020 and the largest in the world by 2030. Given commitment and political will in New Delhi, there's no reason it shouldn't also be among the most profitable.
This column does not necessarily reflect the opinion of Bloomberg View's editorial board or Bloomberg LP, its owners and investors.