Why India's Airlines Can't Take Off
India is one of the fastest-growing aviation markets in the world. So why can't any of its airlines make money?
by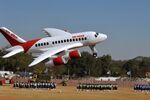 For airlines, Asia's skies aren't terribly friendly. According to data compiled by Bloomberg, six of the 10 initial public offerings by airlines in Asia during the past five years are trading below their sale prices. Legendary investor Warren Buffett, who swore a decade ago never to invest again in the airline business following his losing $358 million bet on US Airways, is surely feeling vindicated.