What Republican Senate Means for Supreme Court
The four Supreme Court justices older than 75 have shown no signs of retiring, and the new makeup of the Senate probably won't change their minds.
by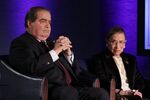 Mr. Dooley, the Stephen Colbert of the late 19th century, taught us that the U.S. Supreme Court follows th'illiction returns. But does that include midterms, too?