Spain's Corruption May Set Catalonia Free
The scale of corruption inside Spain's ruling party has undermined the moral authority of Prime Minister Mariano Rajoy, Catalonian autonomy's enemy number one. 
by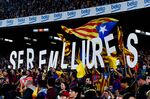 Catalonia's determination to go ahead with a symbolic vote on independence from Spain on Sunday -- despite being banned by the nation's constitutional court -- now has an additional layer of legitimacy. Spain's ruling People's Party, which scuppered the Catalan version of "devo-max" four years ago, has turned out to be so sickeningly corrupt that it has no right to tell anyone what to do.