So Much for Dynasties, for Now
The Democrats' Southern strategy of choosing candidates from political dynasties failed. Maybe it was just because they were Democrats in the South.  
by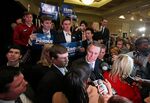 The 2014 elections were a disaster for family dynasties in the Senate, despite the hype earlier in the year about their appeal.
Here's the preliminary final score. Two dynastic politicians, Republicans Shelley Moore Capito in West Virginia (her father, Arch Moore, was governor) and David Perdue in Georgia, were elected. 1 Leaving the Senate? Jay Rockefeller and Carl Levin retired, while Mark Pryor, Mark Begich, Kay Hagan and Mark Udall were all defeated.
That's a net minus four for candidates from political families, and the odds are strong it's going to be minus five after the Louisiana runoff, with Senator Mary Landrieu unlikely to survive.
Two lessons here. The apparent one is that a strategy of running legacy candidates in the South turned out to be a lousy idea for the Democrats. It reminded me of the cycle when Democrats recruited a bunch of millionaires for the Senate, unsuccessfully.
I don't know the personal recruiting stories for candidates this year such as Michelle Nunn of Georgia and Alison Lundergan Grimes of Kentucky, but national Democrats seemed enamored of them. We don't want to prematurely conclude that every strategic move the losing side made hurt them, but it didn't appear to help much.
The lesson that is real? The national press can easily fall for the hype because it's easy to learn who Michelle Nunn is, but a lot harder to remember who Steve Daines or Gary Peters might be. That happens at every stage: Think about how many stories there have been on Jeb Bush's presidential campaign compared with some of the equally viable but less famously named contenders.
Yes, we may have a Hillary Clinton vs. Jeb Bush presidential election. But overall, dynastic politics in the U.S. is on the decline, and it took another hit yesterday.
This column does not necessarily reflect the opinion of Bloomberg View's editorial board or Bloomberg LP, its owners and investors.
Dan Sullivan's wife is the daughter of a former Alaska state legislator. Does that count? I'm inclined to think it doesn't (too weak a connection to too small an office). One more caveat is that less information is available about Senate candidates than about sitting senators, and therefore it's possible I've missed other connections in the incoming group.
To contact the author on this story:
Jonathan Bernstein at jbernstein62@bloomberg.net
To contact the editor on this story:
Katy Roberts at kroberts29@bloomberg.net
Before it's here, it's on the Bloomberg Terminal.
LEARN MORE