view
Europe's Shrinking Conglomerates
Europe's biggest conglomerates are discarding units that don't make enough money or don't fit with with the business strategy. it might just be the start of a second industrial revolution.
by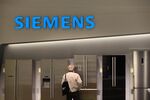 Europe's biggest conglomerates are slimming down, discarding units that either don't make enough money or don't fit with how they see the future. It makes sense to concentrate on fewer industries: There's no obvious synergy between building power stations and selling hearing aids, or between engineering more fertile seeds and making polycarbonate car parts. It just might herald the start of a second European industrial revolution. It's certainly set off a massive mergers-and-acquisitions wave.
Germany's Siemens AG isleading the charge. It has discarded at least five businesses this year to focus on what it calls "electrification, automation and digitalization." And that's after more divestments last year than any European industrial company, according to Bloomberg Intelligence. Both Germany's Bayer AG and Royal Philips NV of the Netherlands are abandoning their century-old business roots in a burst of Schumpeterian creative destruction.
Siemens is allowing partner Robert Bosch to take over its appliance business by selling Bosch a 50 percent stake for 3 billion euros ($3.75 billion). Siemens is also selling a health data unit for $1.3 billion, a clinical microbiology division for an undisclosed sum, an alarms-and-video surveillance maker, and a hearing-aids business for 2.2 billion euros.
On the acquisitions side, Siemens ismuscling up in the markets on which it wants to focus. It paid $7.6 billion for Dresser-Rand Inc. in September to bolster the oil-field equipment division, and $1.3 billion in May for a unit making gas turbines and compressors from Rolls-Royce Holdings. It missed out on the energy assets of France's Alstom SA, beaten by U.S. giant General Electric's $17 billion bid. (GE is also slimming down by offloading a consumer appliance business to Sweden's Electrolux for $3.3 billion earlier this year.)
In Amsterdam, Philips is melding its health-care and consumer divisions into a HealthTech unit, selling products that will arm people with data about their own health, exercise and nutrition through personal technology. The lighting business from which Philips sprang 123 years ago will become its own separate company, though the split units will have a "brother and sister" relationship, with the lighting products still featuring in its health-care equipment.
In another signal that corporate nostalgia is passe,Bayer plans to spin off its plastics business by mid-2016, abandoning an industry it's been in for more than 150 years and that contributes more than a third of sales. The cost of capital for the unit, which Bayer calls MaterialScience, is higher than the returns. Its revenue declined by 2.3 percent, compared with a 3 percent gain for Bayer's healthcare business and 5.25 percent for crop sciences.
As companies try to become less sprawling, workforces are also shrinking. Philips employed 117,000 people at the end of last year, down from more than 121,000 five years ago. Bayer shed more than 3,000 staff last year, while Siemens has 362,000 workers, a fifth fewer than in 2005:
Almost two decades after the breakup of Hanson, the British multinational that became one of the world's biggest companies spanning cigarettes, mining, toys and brickmaking, maybe the unfocused, unwieldy conglomerate is finally dying. While the short-term pain of job cuts add to the labor-market misery in a euro area with 11.5 percent unemployment, it bodes well for the region's industrial future.
To contact the author on this story:
Mark Gilbert at magilbert@bloomberg.net
To contact the editor on this story:
Paula Dwyer at pdwyer11@bloomberg.net
Before it's here, it's on the Bloomberg Terminal.
LEARN MORE