view
ECB Needs Japanese Lessons
As Europe slides closer to deflation, the ECB should heed both the historical experience and the current efforts of the Bank of Japan about how and how not to resuscitate growth.
by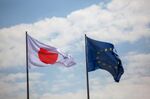 Economists like to warn about Japanification, the risk that a country will follow the desultory experience of Japan, which slumped into deflation in 1999 and for all intents never climbed out. As Europe slides closer to deflation, the European Central Bank should heed the historical experience and the current efforts by the Bank of Japan to resuscitate growth.
Here's a chart showing annual consumer price changes in the euro region compared with those in Japan since 1999:

QuickTake Europe's QE Quandary
The euro area is perilously close to deflation. The ECB target -- consumer price inflation of just under 2 percent -- grows more distant. The European Commission said yesterday it sees euro-area inflation running at just 0.8 percent in 2015, as it cut its prediction for the region's growth this year to 0.8 percent from the 1.2 percent it anticipated in May.
And yet, the ECB's balance sheet has been shrinking as the BoJ's has swollen:

The Bank of Japan announced last week that it's boosting purchases of Japanese government bonds to a record annual amount of 80 trillion yen, or more than $700 billion. My colleague William Pesek points out that the Japanese central bank has now effectively cornered the domestic market in government debt, creating a bubble in the bond market. He'd prefer more economic reforms than increased quantitative easing. Europe would also benefit from more labor-market changes and fiscal stimulus. But neither the ECB nor the Bank of Japan has a mandate to overhaul fiscal policy or employment practices. In the absence of government action, central banks can only fill the void.
The shock-and-awe that BoJ Governor Haruhiko Kuroda sprang on investors isn't likely to be repeated at tomorrow's ECB meeting, even though there is scant prospect that the central bank's inflation target will be met anytime soon.

Two weeks into thecovered-bond purchase program designed to flood cash into the economy, the ECB has purchased just 4.8 billion euros ($6 billion) so far. Draghi said earlier this week that the scope for buying asset-backed securities is "rather large," yet I can't find a single market participant who expects the plan to succeed in swelling the ECB balance sheet by enough to do the job -- unless it repeats the government bond purchases it made between 2010 and 2012, and on a much grander scale:

To contact the author on this story:
Mark Gilbert at magilbert@bloomberg.net
To contact the editor on this story:
Paula Dwyer at pdwyer11@bloomberg.net
Before it's here, it's on the Bloomberg Terminal.
LEARN MORE