view
Backlash Against the Big Boys in Korea
Investors have rebelled against the clubby ways of at least one major South Korean chaebol. President Park Geun Hye should seize the moment to push more radical reforms.
by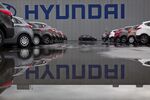 Just when one thought the "Korean discount" might be a thing of the past, South Korean billionaire Chung Mong Koo reminds us why Asia's No. 4 economy continues to be plagued by such cheap valuations.
South Korean stocks have traditionally traded at a lower price-to-earnings multiples than peers thanks to an economic model dominated by family-run conglomerates, or chaebol. These sprawling enterprises have long passed control to sons, enjoyed clubby government ties and used company assets to enrich cronies instead of shareholders.
Since taking office in February 2013, President Park Geun Hye has pledged to trim back the influence and opacity of the chaebol. In August, she sent a shot across their bow with a proposal to tax companies that hoard cash. Park's argument: Why let monopolistic billionaires sit on spoils that would be better used on new investments and higher wages for workers?
Barely a month later, Hyundai Motor Chairman Chung thumbed his nose at Park by spending $10 billion -- three times the assessed value -- for land on which to build a new corporate headquarters, hotel, convention center and car museum. The deal was excessive even by chaebol standards. On Oct. 31, Skagen Funds, the biggest holder of Hyundai preferred shares, told Bloomberg's Sharon Cho that the scheme was "an embarrassment." An investor revolt, which carried into this week after the U.S. fined Hyundai and Kia for overstating the fuel-economy standards on some car models, has cost Hyundai its coveted place as the No. 2 chaebol after Samsung; it's now No. 3, after SK Hynix.
If there's a silver lining to all this, it's that the market backlash may chasten Chung and his chaebol peers going forward. Even mighty Samsung appears to have taken notice. On Friday, a day after Samsung Electronics reported a 49 percent plunge in net income, management said it would detail a shareholder-friendly restructuring of the company.
Park should seize this moment. Events in the global economy are adding to the sense of urgency: The Bank of Japan's latest stimulus barrage, which has driven down the yen sharply, threatens to hit Korean exporters hard. It's time for Park to follow through on her 10 percent levy on excessive cash hoards, as well as other regulatory tweaks.
The president needs to go further, though. As the Korea Times argued in a Nov. 3 editorial, "Korea's economy needs to make another paradigm shift, as it did at major junctures in the past." That means placing "greater emphasis on research, developing services industries, and expanding the domestic markets."
While Park has talked quite a bit about transforming Korea into a "creative economy," thus far she hasn't done enough to implement her vision. To be fair, she's been distracted by North Korea's provocations and short-term stimulus efforts amid tepid global growth. But the real problem is the lack of a clear strategy. The president can't just order a risk-averse population of 50 million people to be more creative. That requires fresh government support for startups, tax incentives for small companies, fresh training, an education curriculum that fosters more critical thinking and a greater openness to foreign investment across industries.
In dealing with the chaebol specifically, shareholders can be allies. Park should be leveraging their voices to her advantage, prodding companies to give minority shareholders a bigger voice and end cross-shareholdings between friendly companies. The president could even use the bully pulpit to name and shame giant companies that pass leadership from one generation to the next like some wealth-destroying birthright. Exhibit A: Samsung heir Lee Jae Yong, who is preparing to take the reins from his dad even as profits tumble and the company struggles to develop its own world-changing product.
Long-time Korea investors have every reason to be skeptical. Seoul has promised chaebol reform since the 1997 Asian crisis, and yet five names still dominate the city's skyline. With a bit of gumption on Park's part, though, recent events could catalyze change. Korea has proven time and again that it can weather and even thrive amid existential challenges to its economy and political system. The sense of crisis in Seoul may offer another ideal moment to raise the nation's stock.
To contact the author on this story:
Willie Pesek at wpesek@bloomberg.net
To contact the editor on this story:
Nisid Hajari at nhajari@bloomberg.net
Before it's here, it's on the Bloomberg Terminal.
LEARN MORE