Why Immigration Reform Could Survive
It may be all parties' interest to get a deal. 
by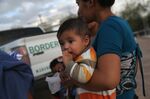 Even before the votes are counted today, there is a broad consensus that immigration reform will be a casualty of the midterm elections. Republicans killed it in this Congress and there will be more Republicans next year. Moreover, the controversies over children crossing the Mexican border this year may have shifted the politics to the anti-immigration side.