New Hampshire Rejects Scott Brown Transplant
Turns out, each state can have two senators, but one senator can't have two states.
by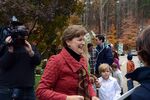 In the end, Scott Brown couldn't pull it off: New Hampshire voters stuck with their incumbent Democratic senator, Jeanne Shaheen. It was a squeaker -- 51 percent to 49 percent, according to early results -- which seems preposterous given that Brown, a former Massachusetts senator, had decided to just cross the border, like an unaccompanied minor looking for a better life, and get himself a Senate seat in the Granite State.