Malaysia Serves Up Some Hot Xenophobia
Can you pass a law to keep the cultural purity of char kway teow and assam laksa?
by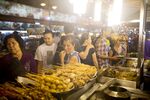 The crumbling, colonial lanes of the Malaysian island state of Penang are renowned for two things: historic sites and the food cooked in the famed hawker centers. In 2008, Unesco preserved the former from exploding real estate development by declaring the historic core of Georgetown, Penang's capital city, a World Heritage site. Food, however, is a more difficult matter. Its hard to imagine that any law or edict could prevent chefs from changing their recipes, or being influenced by other cuisines -- especially at a time when Penang is experiencing an influx of immigrants, tourists (and foodies).