Apple Dodges Taxes to Satisfy Icahn

Mark Gilbert is a Bloomberg View columnist and writes editorials on economics, finance and politics. He was London bureau chief for Bloomberg News and is the author of "Complicit: How Greed and Collusion Made the Credit Crisis Unstoppable."
Read More.
There's an elegant maneuver available to U.S. companies that are wrestling with international tax strategies while also trying to keep activist shareholders at bay. Suppose you have a stash of cash overseas. You don't want to pay taxes as high as 35 percent for bringing it back to the U.S. You are, though, part of the trend of companies purchasing their own equity to pacify shareholders. Why not match those overseas assets with some overseas debt liabilities, and funnel the proceeds into your share buyback program?
Apple, the gadget maker with a market capitalization of $642 billion and a cash pile of $155 billion, plans to ask European bond investors for money. The company's motivation is clear -- grabbing more of the cheapest money ever available before the Federal Reserve pulls back the bond-market punch bowl by raising interest rates.
With Carl Icahn on the warpath for more share buybacks, raising money on the capital markets lets Apple fund those purchases without a U.S. tax penalty -- hence the previous two visits to the bond market, which raised $17 billion in 2013 and a further $12 billion earlier this year: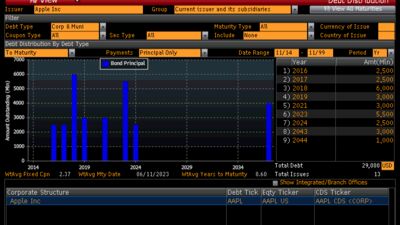 Apple plans to sell 2.8 billion euros ($3.5 billion) eight- and 12-year bonds denominated in euros, according to Bloomberg News, its first foray outside the dollar market. Potential buyers of Apple's euro debt should check the history of its dollar bonds, which have proven to be a lackluster investment at best.
The $5.5 billion of 2.4 percent securities maturing in 2023 yield about 72 basis points more than Treasuries, down a bit from the 75 basis points they were sold at in February 2013. And the yield premium on a $4 billion issue of 1 percent 2018 notes is little changed from issue, at about 40 basis points.
Apple's longer-dated issues have fared a bit worse. The $1 billion of 4.45 percent bonds sold in May and repayable in 2044 have lost ground against government debt. They yield 109 basis points more than Treasuries, up from 100 when investors bought them. The $3 billion of 3.85 percent 2043 securities sold a year earlier have also slipped, with a yield spread of 106 basis points, also up from 100.
Losing a handful of basis points isn't enough for a bondholder to lose sleep over. Still, you haven't exactly been well rewarded for the additional risk of lending to Apple rather than the U.S. government -- although there are those who might argue that lending to the world's biggest company safer than betting on the future creditworthiness of Uncle Sam.
Adds size and corrects maturity of bonds in fourth paragraph.
This column does not necessarily reflect the opinion of Bloomberg View's editorial board or Bloomberg LP, its owners and investors.
To contact the author on this story:
Mark Gilbert at magilbert@bloomberg.net
To contact the editor on this story:
Toby Harshaw at tharshaw@bloomberg.net