Ukraine's Revolutionary No. 1 Goes to Parliament
The journalist who started the Maidan protests in Kiev last year is now a legislator struggling to find a way to do politics honestly.
by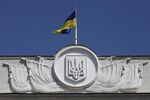 In the history of Ukraine's Maidan revolution, which ousted President Viktor Yanukovich in February, Mustafa Nayyem deserves prominent mention. A year after the journalist's Facebook post drew the first protesters to Kiev's main square, he's now a freshly elected member of parliament, conflicted about his role and struggling to find a voice for his generation.