Modi's Black-Money Blunder
India's Supreme Court has been straying into executive territory more and more. It's time to stop.
by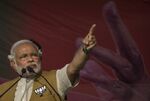 Indian Prime Minister Narendra Modi is a man more accustomed to giving than to following orders. But part of him was probably relieved earlier this week when India's Supreme Court directed him to hand over the names of 627 Indian citizens holding potentially illegal bank accounts at an HSBC branch in Geneva. As a candidate, Modi had promised to expose and repatriate any "black money" squirreled away abroad. As prime minister, he has discovered that existing tax agreements prevent him from publicizing the names of account-holders unless the government can prove criminality or tax evasion in the sources of funds.