Literature and Death at West Point
What a good book and a good motorcycle mean to American soldiers.
by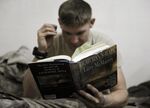 On Nov. 4, West Point literature professor Elizabeth Samet's new book will be published by Farrar, Straus and Giroux. "No Man's Land: Preparing for War and Peace in Post-9/11 America" grapples with the ambiguous era between Sept. 11 and the present, in which war has been pervasive for Americans in the military and sometimes forgotten by civilians. Samet and I corresponded by e-mail, and then lightly edited the results.