Editorial Board
Japan's Shock and Awe
Bank of Japan Governor Haruhiko Kuroda's stunning bond-buying expansion won't fix Japan's ailing economy by itself, but it might help, and Kuroda is right to try.
by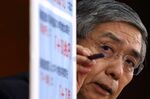 Bank of Japan Governor Haruhiko Kuroda stunned investors today by announcing a big expansion of the central bank's bond-buying program. The move won't fix Japan's ailing economy by itself, but it might help, and Kuroda is right to try.
The U.S. Federal Reserve likes to signal its intentions and avoid taking financial markets by surprise. Kuroda prefers shock and awe. Investors were wrong-footed by the scale of the BOJ's quantitative easing when it was first announced last year. Now Kuroda has ambushed them again. Few expected the scale of purchases to be ramped up so soon -- to 80 trillion yen a year ($724 billion), from 60 trillion to 70 trillion. Just three of 32 economists surveyed by Bloomberg News predicted it.
Kuroda's board was surprised as well, and was divided on the announcement. If Kuroda wanted investors to sit up and pay attention, it worked.
Fed doctrine notwithstanding, the element of surprise serves a purpose. QE works partly because it sends a message to investors that the central bank is determined to be forceful. At the moment, Japan's economy needs all the forceful support it can get.
The main worry is that inflation is falling again. After rising to 1.5 percent earlier this year, as the BOJ intended, the rate has since fallen back to 1 percent. The central bank's target of 2 percent looked to be moving out of reach. Kuroda is saying he isn't about to let that happen.
The problem is that the BOJ can't repair Japan's economy by itself. At the moment, macroeconomic policy is pulling in two directions: bold stimulus from the central bank combined with a recent hefty sales-tax increase to cut public debt, with another tax increase planned for next year. The tax rise appears to have had a more dampening effect on the economy than expected. Yet it's hard to deny that it was needed: After years of high borrowing and stagnant growth, Japan's public debt is enormous.
If the economy fails to respond to expanded QE, though, Prime Minister Shinzo Abe will need to revisit his tax plan. A return to deflation would wreck his hopes of fiscal consolidation, with or without higher taxes. Avoiding that must be the first priority.
In addition, Abe could help Kuroda dispel the deflationary mind-set by taking up the structural reforms he has promised but has so far mostly failed to deliver. Granted, the government has made a start -- in reforming the electricity market, for instance -- but Abe has shown no great zeal for exposing farmers to foreign competition or freeing up the labor market. Japan's agricultural protections are a double burden, because it's holding up agreement on the Trans-Pacific Partnership free-trade pact. A breakthrough on farm trade is just the tonic Japan needs.
Japan's economy is still in deep trouble. If its recovery collapses, Kuroda won't be criticized for failing to do all he could. Unless he changes course, Abe will be.