view
Friday Baseball Blogging: The Streak Survives
Let's take one last trip around the bases.
by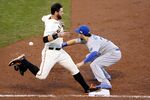 We need to talk about the postseason. The Giants have won 10 consecutive postseason series. That shouldn't happen very often 1 .
Was there something about this team especially suited to the postseason?
I really don't know yet. Sure, there are a few things special about this Giants team. If you compare two pitching rotations, the one that's most lopsided (i.e. having the greatest difference between the best and worst pitchers) tends to be the best in the playoffs. It's great to have five equally good starters in May but the extra rest provided in the playoffs benefits the team with two aces.
After watching this World Series, I wonder if Brian Sabean is a Hall of Famer? The consensus seems to be that Bruce Bochy took a huge step toward Cooperstown this season. Like Bochy, Sabean has four World Series appearances and three wins. I don't know how to answer this one … I can say Sabean has been better during this run (since 2007) than he was during the Barry Bonds era. I'd stand by that even if you think the postseason is a crapshoot.

Putting any special abilities for October aside, don't let anyone tell you that the Royals and the Giants were the worst teams entering the postseason. Yes, the Giants were the final National League team to make the playoffs and the Royals were fourth of five in the junior circuit. Including the postseason, though, the Royals finish with a record 100-77 which puts them ahead of the Tigers (90-75). The Royals didn't quite catch the Angels and Orioles but they did close the gap. The Giants wound up with a record of 100-76, enough to finish ahead of the Pirates and the Cardinals and gain some ground on the Dodgers and Nationals. If we're assessing which team is better, those games absolutely count.
Finally, I wrote about this in a Read Stuff post but haven't received any responses. I really want to know whether you think Brandon Belt's bunt single in Game 5 changed the way the Royals defended against him for the rest of the series -- and whether that allowed his important hit early in Game 7 to get through the infield. Anyone know? The Fox broadcast team was, well, not helpful.
I guess that's it. It's time for the Arizona Fall League, the hot stove league, Hall of Fame arguments and counting down the time until pitchers and catchers report. I can't wait.
To contact the author on this story:
Jonathan Bernstein at jbernstein62@bloomberg.net
Before it's here, it's on the Bloomberg Terminal.
LEARN MORE