China's Missing Babies
Allowing Chinese to have more kids was supposed to spark a baby boom. But it's not turning out that way.
by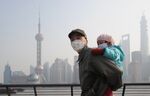 In one of the signature reform measures of his early presidency, Xi Jinping declared last November that China's notorious "one-child" policy would become a "two-child" policy for couples where either husband or wife was an only child. While the change didn't abolish the often brutally enforced population control measure, it was a start. Chinese officials hoped the announcement would usher in a mini-baby boom, predicting as many as 2 million additional births per year to parents who had long been denied full reproductive rights.
Xi's government, of course, wasn't merely expressing its love of children. The point was to find a quick fix -- let them have more kids! -- to a looming demographic disaster: By 2050, one in four Chinese will be 65 or older, placing intense pressure on families, social services, and the economy. Yet what's fast becoming clear is that there's no easy solution to China's population problems.
The proof is in data released on Wednesday by China's National Health and Family Planning Commission. Of the more than 11 million Chinese couples that became eligible to have a second child, only 700,000 have applied to do so. (Around 620,000 were approved.) No national-level data was provided as to how many children have been born to those couples. But the city of Chongqing, whose population of more than 33 million is sometimes called the world's largest, was disappointed to claim a mere 5,015 births as a result of the reform.
Why aren't Chinese parents embracing the chance to have more kids? The biggest problem is one familiar to parents worldwide: It's expensive to raise children in China, and only becoming more so. While hard data on this point is lacking, the anecdotal evidence is persuasive -- and is embraced by Chinese government organizations and state media. A December 2013 report from the state-run All-China Women's Federation, for instance, claimed that urban Chinese families earning between RMB 4,000 and RMB 10,000 per month were, on average, spending RMB 3,000 per month on their kids. The rising costs are driven by a number of factors, especially expensive school fees.
Cultural pressures further complicate matters. For example, men are traditionally expected to own a home prior to marriage. But in China, where urban real estate prices have spiraled out of the reach of most young people, the challenge of buying homes for second sons (much less, the first) seems to be giving many parents second thoughts.
Finally, in Chinese cities (parents in the countryside have long been allowed to have a second child if their first is a girl), there's a pervasive feeling that the quality of life on the mainland has grown unsuitable for raising children. Last year, as my wife and I contemplated whether to stay in China while starting a family, several friends -- two of whom were government officials -- asked me directly: "Why would you raise kids in this pollution if you don't have to?" It's not just the pollution either. In 2008, thousands of Chinese babies fell ill as a result of industrial contamination of infant formula, and ever since Chinese parents have been rightly skeptical of the country's food supply.
For Xi's government, these issues pose an ironic problem. Generally, "reform" in China means getting the government out of the way. Yet the early returns from the loosening of the one-child policy suggest that if authorities really want to grow the country's population, they're going to have to do more, not less.
To be sure, they should continue to liberalize and ultimately lift inhumane population-control measures. But at the same time, the government needs to address the high cost of raising kids. That means introducing affordable housing measures, access to daycare for working parents (unheard of in contemporary China), and lower school fees. These aren't new demands, nor are they easy to implement. But if China's to avoid a demographic disaster that dwarfs the one facing Japan and several European countries, those reforms need to become top priorities, now.
To contact the author on this story:
Adam Minter at aminter@bloomberg.net
To contact the editors on this story:
Nisid Hajari at nhajari@bloomberg.net
Nisid Hajari at nhajari@bloomberg.net
Before it's here, it's on the Bloomberg Terminal.
LEARN MORE