Win or Lose, Republicans Are Still a Wreck
Republicans appear poised to win, but not to govern.
by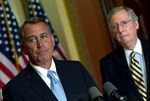 On the verge of victory in the midterm elections, the Republican Party looks no less shaky than it did on the verge of defeat in 2012. The base appears no less irate than at any other moment in the Obama era, and the party leadership's plans look no more coherent or calibrated to the times.