Volkswagen Highlights Europe's Challenge
Volkswagen CEO Martin Winterkorn delivered a blunt message on productivity that bodes ill for the euro region's efforts to tackle unemployment.
by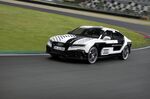 Volkswagen Chief Executive Officer Martin Winterkorn delivered a 16 percent increase in third-quarter profittoday, beating analyst expectations. But it came along with a blunt message for the company's 575,000 workers: "Let's be honest," Winterkorn said, "we have a lot of catching up to do with our core competitors in terms of productivity."