Sears Has a Deal to Offer Its Shareholders
The deal involves a rights offering of bonds plus warrants, which is pretty special right there. Also it looks unpleasant for short sellers.
by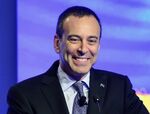 When you're a public company and you need money, you can raise it in a bunch of different ways, each of which conveys a different amount of desperation. Right near the top of the desperation pile is the rights offering, 1 in which you go to all your shareholders and threaten and cajole them into buying more shares by telling them that if they don't they will be diluted and the value of their stock will drop. 2 In the U.S. this sort of thing is perceived as a bit shameful, so it tends to be a last resort, though it's much more common in Europe.
Here, on the other hand, is a much stranger rights offering from Sears Holdings, which is a U.S. company, albeit also sort of a Canadian one. 3 Sears Holdings' innovation is that its rights offering is not an offering of stock but of bonds and warrants. For every 85.1872 shares of common stock that you own, you get a right to:
Give Sears Holdings $500.

Get a $500 bond (five-year maturity, 8 percent coupon, senior unsecured at Sears Holdings).
Also get 17.5994 warrants to buy Sears Holdings common stock (five-year expiry, strike price of $28.41 per share).
The total issuance would be $625 million of bonds and warrants to buy 22 million new shares, or about 20.7 percent of the shares currently outstanding.
That's weird! A typical rights offering involves cajoling your shareholders to buy more shares, because if there's one thing you know about your shareholders it's that they hold your shares. That doesn't necessarily mean they want to buy more of them, but it's at least a defensible inference. It's less clear that they'd want to buy bonds and warrants. Lots of shareholders actually can't buy bonds or warrants; they are equity mutual funds that are limited to buying stocks. The natural way to sell bonds is to bond investors. Sears Holdings' rights are transferable, so the shareholders can sell them to bond investors, but the rights structure, besides being a bit shameful, makes it harder to market to bond investors, do investor meetings, negotiate terms, etc.
So why do it? Well, Sears Holdings has two big shareholders of particular note, ESL Investments and Fairholme Capital Management. ESL, Edward Lampert's investment vehicle, owns 48.5 percent, and Lampert is the chairman and chief executive officer of Sears Holdings; Fairholme owns 23.6 percent. 4 ESL intends to exercise its rights in the offering, as do at least some Fairholme funds. 5 And if others don't exercise their rights, then ESL intends to buy any bonds and warrants that others don't. It's safe to say that these guys want to buy this deal.
Of course, Sears Holdings could have done a regular marketed bond deal, and ESL and Fairholme could have put in orders in that deal. What would that look like? Sears Holdings has senior secured bonds outstanding, due in October 2018, rated CCC+ and trading at a yield of around 9 percent. 6 The new notes are unsecured, so they rank lower in the capital structure; they also mature later. Figure they should come at a yield of, I don't know, 10 percent? 11? More? This is the sort of nosebleed area where you can't feel all that confident offering $625 million of sub-CCC+ bonds to high-yield investors. They might just say no.
So maybe you give them warrants to sweeten the deal. Like in this offering: Sears Holdings is offering warrants with an exercise price of $28.41, pretty in-the-money versus yesterday's close of $36.99. (The stock was up this morning.) I get a theoretical value of around $16 per warrant. 7 And you get 17.6 of them with your $500 bond.
Here's a stab at the value proposition for this rights offering:
Hoo boy is that not investing advice! If you expect to receive Sears Holdings rights in the mail, please consult your investment adviser or psychologist or oracle before deciding whether they represent an attractive proposition. All I'm saying is, using some reeeeeeeeasonably conservative assumptions, you could see how someone might think that it's an attractive proposition. If you look at that chart, and you shouldn't, it seems to say that you're paying $500 for $725 worth of stuff.
That's nice! For you! Obviously it's less nice for Sears Holdings, precisely in proportion to how nice it is for you. I mean, it looks like Sears Holdings is selling $725 worth of stuff for just $500. But it all balances out because it's selling it to its shareholders. Sure, Sears Holdings is getting a bad deal, but its shareholders are getting a good deal, and they're all in it together. And sure, some of the shareholders won't want bonds and warrants and so will have to get rid of their rights. But that's fine; they can sell them, at a price that should roughly reflect how good a deal this is. (Which might be $2.64 per current Sears share! Though probably not!)
[Update: To be clear, the math above gets a value of about $225 per right. You get one right per 85.1872 shares, so the $2.64 is the rights value per share. I see a trade for 30 rights at $195 at 10:01 on Friday morning, or about $2.29 per share.]
So a story sort of emerges about why Sears is doing this deal rather than a more regular bond offering. 8 If it did a regular offering, it might be able to get a better deal than this: There might be bond buyers willing to buy these bonds at lower yields, or to take fewer warrants, or whatever. That would be good for Sears Holdings. But it would be bad for the investment vehicle of Sears Holdings' CEO, who intends to buy around half of the bonds and warrants in this offering. If he bought half of a public offering, and agreed to take whatever deal the market price set, he might end up with a worse deal (for him) than this one. And he wants this one.
On the other hand, if Sears Holdings went to the bond market, it might not be able to get a better deal. It might only be able to get this deal, or an even worse one. That would be bad for Sears Holdings, but it would also be awkward for Lampert: He'd be buying half, or whatever, of what looks like a sweetheart deal, without offering it to other shareholders. 9
So I think that roughly explains why this is happening. Sears needs money. It is at the point where it can only raise that money on fairly embarrassing terms. The most natural provider of money on embarrassing terms is its CEO, but it's a little awkward to take money from your CEO on embarrassing terms, and anyway he drives a hard bargain. The only way to make that look OK is by offering the same embarrassing terms to everyone. And if not all of them are able to accept, because they're not natural holders of bonds and warrants, then so much the better. The CEO will step up. There's your deal.
One other fun thing. Sears Holdings has long been a popular stock among short sellers. The stock exchanges show 17.6 million shares of short interest, out of 106.5 million total shares, though that short interest number is on a delay and may be different now. But it's a lot, especially when you consider that ESL and Fairholme between them own 78 million shares. To be short Sears Holdings, you need to borrow stock, which is a difficult and expensive proposition these days. But lots of people do it anyway, because they're really jazzed to bet on Sears Holdings' failure.
This deal should make their lives a lot harder. 10 Sears Holdings has 106.5 million shares outstanding, but people own a total of 124 million shares -- 106.5 million that they've bought from Sears Holdings, and 17.6 million that they've bought from short sellers. I know, it's weird, it's the mystery of short selling, that's just how it works, people own more shares than there are. And if you were short a share of Sears Holdings yesterday, then today you are short a share of Sears Holdings and one of these new rights. 11 So now people own more rights than there are.
That's bad enough, but it gets creepier on Nov. 18, when the rights expire. The rights, by my math, have value, so they should all be exercised. Or rather, more than all of them should be exercised. If the rights connected with 124 million shares (i.e. 1.46 million rights) are exercised ... what happens? Well, Sears Holdings isn't going to honor more rights than it issued (1.25 million, for its 106.5 million shares outstanding). It will honor them for 106.5 million shares. The other 17.6 million will be the responsibility of short sellers to honor. 12 They'll have to borrow to do that, and will end up short something like $100 million of Sears Holdings bonds and warrants on 3.6 million shares. Bonds tend to be harder to borrow than stocks, since some of the obvious sources of stock borrow (retail investors in margin accounts, etc.) don't really work for bonds. If you think it's hard to borrow Sears Holdings shares now, wait until you have to borrow bonds and warrants -- especially when most of those bonds and warrants will be held by ESL and Fairholme.
Or you can close out your position in the bonds and warrants by buying them in -- but where will you buy them from? Again, ESL and Fairholme will own most of them, and seem like buyers rather than sellers. There are $100 million of bonds that need buying, and probably not that many that need selling. One gets the sense that the short sellers will feel at least gently squeezed.
I have no idea if this is an intended or anticipated result, and perhaps there is some simple solution that I'm missing and short sellers will sail through this rights offering untroubled. But it sure looks like a pain to me. Normally a rights offering drives down a company's stock price, both as a matter of arithmetic and because it looks a bit desperate, and so vindicates short sellers and makes them a profit. This one seems to have the opposite effect. Sears Holdings' stock price is way up from where it was when it first announced this offering last week. Sears Holdings has managed to turn what usually looks like a desperate move into one that actually looks quite strong.
To contact the author on this story:
Matthew S Levine at mlevine51@bloomberg.net
To contact the editor on this story:
Zara Kessler at zkessler@bloomberg.net
Before it's here, it's on the Bloomberg Terminal.
LEARN MORE