Giants Win Series, and Dynasty Status
They haven't won 95 games in the regular season, and didn't even reach the postseason at all in the two off years, and yet here they are with three championships.
by and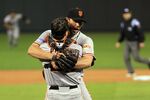 During the 2014 World Series, Bloomberg View columnists Jonathan Bernstein and Kavitha A. Davidson have discussed, debated and dissected the happenings on and off the diamond.
Kavitha A. Davidson: First off, congratulations to to the San Francisco Giants and their fans, especially you, Jonathan. But most of all, congratulations to Madison Bumgarner, who put together one of the greatest World Series performances in history.
I have no idea how you kept it together -- I didn't really have a horse in this race and I was still having palpitations through the final four innings.
The Royals made it interesting in the bottom of the ninth -- or, more accurately, the Giants outfield did. Centerfielder Gregor Blanco let an Alex Gordon single get by him, allowing Gordon to motor all the way to third. We could second-guess whether Gordon should have been waved home with two outs, but that's rendered moot by Bumgarner's brilliance.
We should give a nod to Giants second baseman Joe Panik, however, who made the play of the series way back in the third, a diving stop on Eric Hosmer's grounder up the middle to turn a double play with Lorenzo Cain on first and no outs in the inning. If Panik doesn't squash that rally, Bumgarner might never have seen the mound, the entire complexion of the game changes, and maybe we don't see the solidification of the first National League dynasty in decades.
Have your feet returned to the ground yet, Jonathan?
Jonathan Bernstein I hope it's not impolite to say so, but for most of my life the closest I had to knowing what winning the World Series was like was the great Bill James essay in the 1986 Baseball Abstract. The one thing that James missed, however, was that for at least this fan winning the World Series isn't a one-night party, or even a multiday party ending with a parade. The team you root for is World Series champion all winter, and in spring training, and on opening day, and when they go to the White House at some point during the summer, and really all through the season, at least up to the point they're eliminated.
And the last two times around, I would happen to think about it in March or June or whatever, and it just made me silly-happy. I thought about it pretty much every day.
As for the game … you hit the highlights. I'll just add a few, quickly. Juan Perez completed his unlikely week with a game-saving catch of a line drive down the left field line, leading to millions of baseball fans around the nation and the world all saying, in unison, "Travis Ishikawa wouldn't have had that." I'll overlook his contributions to the thrilling bottom of the ninth.
Panik's grab and flip on that Hosmer grounder was indeed amazing. Don't shortchange Brandon Crawford, though: he had to take an almost-wild toss and make the play. In fact, Crawford had an excellent Series. So did Pablo Sandoval at third; he earned that last out by shedding his need for a defensive replacement. And credit to Jeremy Affeldt, too. Lots of heroics.
One word on the Royals, who as Rany Jazayerli pointed out, had the best possible postseason record, 11-4, without winning it all. I sure hope this is only the beginning of a franchise resurgence. They're a class act as far as I can see, and they seem to have produced a disproportionate number of sabermetrically terrific fans.
KAD: The Royals certainly have a lot to be proud of, and it was great to see their long-suffering fan base cheering again. In fact, they were cheering well after the final out last night, a classy move by a crowd that got to watch championship-caliber baseball for the first time in 29 years.
Game 7 will sting for awhile, of course, but both these teams squeaked in through the Wild Card, and what the Royals accomplished was nothing short of incredible. Anyone who tells you he saw Kansas City in the World Series before the season started is lying. This is a good, young team, and it was great to see management finally open the purse strings (a little) and try to field a winner.
I won't go out on a limb and say the Royals will be right back here next October -- that's really up to them. Now that he has a taste of winning, owner David Glass should up that payroll and make a run at a starting pitcher and a power bat this offseason. Why stop now?
I'll be interested to see the final ratings. The Royals killed it all season in their local market. But there are pockets of baseball writers who believe that while parity is an admirable goal -- one the MLB has largely achieved despite its reputation -- big-name, big-market teams are still required to drive national fan interest. Heading into last night, this had unfortunately been one of the least-watched series ever.
Back to the Giants. In your eyes, where does this team rank in the pantheon of baseball dynasties? It's hard to compare them to my Yankees of the late-nineties, who utterly dominated both the regular and the postseason for five years. But despite not making the playoffs in two seasons, San Francisco's three titles in five years puts them in rarified air, made all the more impressive by how they got there.
JB: I'd mostly like to duck that question, but if I have to answer where the Giants rank among the great teams I'd say: different. There's really nothing even close to a comparable team. They haven't won 95 games in the regular season, and didn't even reach the postseason at all in the two off years, and yet here they are with three championships. What team was similar? Certainly not the Yankees, who dominated for years, even when they weren't going all the way. Certainly not the Marlins, who did win the World Series the two times they made the postseason six years apart, but only after being a bad team in the interim.
Look: No team should be able to do what the Giants have done. If postseason series are coin flips, they've just gone 10 for 10, which is astronomical odds … but given that they were favored in hardly any of those match-ups, the Vegas odds were even longer. I don't know how to analyze something like that. I do know to appreciate it, though -- not just as a Giants fan, but as  a baseball fan.
I'll talk instead about something even broader. Thanks to this run, the Giants have restored their place as one of the premier National League franchises -- not now, where that's obvious, but over the entire history of the league. (Yes, Kavitha, I know about the Yankees. I'll stick to the National League right now, please).
The Giants have now reached the World Series 20 times, winning eight of those (there are also a couple of 19th century pennants to go along with those, but I'll stick to the World Series era, beginning in 1905). That's roughly comparable to the Cardinals (19 pennants, 11 World Series titles) and a little better than the Dodgers (18, 6). Since many of those pennants have been secured long ago (the Giants reached the World Series 12 times from 1905 through 1937), and hadn't won it all since 1954, however, it was pretty hard to really place them in the top tier.
Now, however? They've clearly (re-)separated themselves from the Cubs, Reds, Phillies, Pirates and Braves, and pulled solidly ahead of the Dodgers, too. After all, the Giants have now reached the World Series five times and won three since the last time the Dodgers played to the end of October.
And now? There's no way of guessing, of course, but from ownership on down, the Giants certainly give every appearance of being a very, very healthy franchise. That doesn't always have quite as tight a correlation with winning, especially with winning the World Series, as one might hope --after all, consider those Marlins teams. Still, I'd rather bet on the team that runs everything well. Who knows what they can accomplish next?
Kavitha, this was loads of fun. Let's try it again next year.
This column does not necessarily reflect the opinion of Bloomberg View's editorial board or Bloomberg LP, its owners and investors.