Fleeing Hedge Funds: Use Your Imagination
Investors who follow Calpers' exit from hedge funds can be more imaginative in finding sources of absolute returns.
by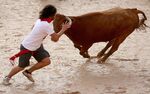 The decision of the California Public Employees' Retirement System to pull out of its hedge-fund investments continues to attract lots of attention, and understandably so. Calpers is, after all, the largest U.S. pension fund and is among those that continue to seek a relatively high rate of return to help pay the health and retirement benefits of millions of public employees. It is also highly respected.