The Link You Just Clicked May Not Be Real
A cybersecurity firm has provided examples of how hackers working for the Russian government trick us into giving up sensitive data.
by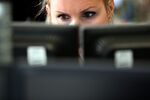 Thanks to a new report from cybersecurity firm FireEye, we now know exactly how hackers sponsored by the Russian government have been able to gain access to sensitive information on computer networks owned by NATO, its member countries and former Soviet nations such as Georgia. The methods are both sophisticated and easily fended off with just a little vigilance.