Lies, Damned Lies and Immigration
Most of what Britons think they know about immigration is wrong.
by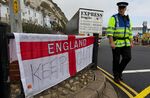 Three articles in the U.K. press caught my eye today. All had to do with immigration, which has become the top concern for voters before a general election next year and will be a deciding consideration in the promised 2017 referendum on whether the U.K. should leave the European Union.