How to Give Japan a Second Wind
Pundits can debate how real Shinzo Abe's "third arrow" reforms are. But what Japan really needs is a fourth arrow.
by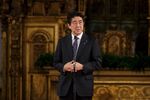 Anytime I moderate a discussion on Japan, I ask panelists this: If Shinzo Abe were sitting before you now, what steps would you recommend the prime minister take to hasten Japan's resurgence?