Governors Races Mean Nothing for 2016
Years ago, governors could make a difference, delivering delegations for a nominee and helping in the general election. No more.
by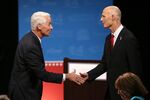 As we watch the elections returns next Tuesday night, the most volatile results may come from governor's races, with perhaps a dozen or more seats changing party hands. That will then set off one of the myths in American politics: that control of the state house affects the presidential race.