Fed's Lack of Conviction Is Warranted
Given the lack of political spine and action in Congress, the central bank had to stick to its wishy-washy strategy.  
by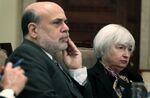 The Federal Reserve delivered today what I and many others expected, in both actions and words. Rather than sending a well-telegraphed signal for going forward, it is keeping its options open in an unusually fluid economic, political and global environment.