Brazil-Italy Blood Feud Heats Up
Henrique Pizzolato's case looks like political payback. 
by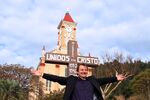 Henrique Pizzolato's story is made for the movies. Convicted of corruption and appropriating public money in one of Brazil's biggest political payola scandals, the former banker slipped out of his apartment in Copacabana at 4:30 one morning last year with just the clothes on his back, drove to the Paraguayan border and disappeared.