Israel's Overdue Reckoning With Its Arab Citizens
President Reuven Rivlin has made healing in Israel a priority.
by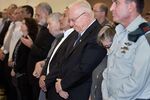 Few outside Israel may recognize the name Reuven Rivlin, who at one time was known as a decent person without much pizzazz. When he was elected to succeed the wildly popular President Shimon Peres in June, many anticipated that Rivlin would be nothing more than a placeholder.