Don't Trust the Polls in These Five States
Georgia's runoff fever, Alaska's geography, Colorado's undercounting of Democrats, and South Dakota's and Kansas's nontraditional races.
by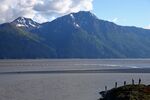 What if the polls are wrong?
Plenty of races are toss-ups even at this late date, the polls tell us. But it's possible that idiosyncratic elements in particular contests will make the sophisticated polling averages less reliable than usual, even if overall the opinion surveys turn out to be correct. And we don't know the political direction of the effect.
Here are five states most at risk for polling mishaps in their Senate elections, ranked from most to least likely. This doesn't mean any of them will hold surprises once the votes are counted. It just means that right now there are reasons to look at the polls with some skepticism.
Georgia's race might not end in a runoff. If it does, however, the early polls on the results of a possible runoff should be taken with a grain of salt -- see a good rundown on this from Aaron Blake of the Washington Post. Polling works best when it's about something voters have already decided; many people haven't made choices about hypothetical elections weeks in the future, and their predictions about what they will decide don't take into account a political context that hasn't happened yet. This logic applies to Louisiana as well, but I suspect the Republicans have that one locked up.

Alaska is just plain hard to poll, thanks to its unusual political geography and demographics. While Republican challenger Dan Sullivan appears to have a small but solid polling lead, incumbent Democrat Mark Begich had large leads in two different surveys this week -- probably outliers, maybe not.

Kansas, a very Republican state with a very unpopular Republican governor, features Republican incumbent Senator Pat Roberts against an independent. Measurement isn't the issue; it's that voter preferences may be less stable than in a normal two-party contest.

Colorado has seen some recent polling mishaps, including in the 2010 Senate election when Democrat Michael Bennet pulled off a surprise. Pollsters there have been understating the Democratic share of the vote. That doesn't necessarily mean we should expect embattled Democratic Senator Mark Udall to outperform the polls. They may get it right this time. Or maybe the vote will break in the other direction if pollsters have overcompensated for those errors.

South Dakota may see something weird, as I've mentioned before. Even though the possible odd movement in that three-candidate race earlier this month has apparently dissipated, I'll repeat: Multicandidate races tend to be unstable, so sharp late movement remains possible.

Some of the same ideas apply in governor's races. Premature runoff polls can be misleading. Multicandidate or other unusual races are less stable than normal two-party competition. Alaska is hard to poll.
Increased uncertainty is, logically, good news for the candidate behind in the polls. But it also means that those prediction models converging on 52 Republican seats in the Senate could still be a few seats off -- in either direction.
This column does not necessarily reflect the opinion of Bloomberg View's editorial board or Bloomberg LP, its owners and investors.