Currencies Flag More Volatility Ahead
October has savaged returns in the investment community; volatility in the currency market suggests the whiplash may continue.
by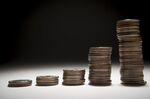 The volatility in equity and bond markets that bloodied investors this month has become a little more tame lately, so there's some reason to hope the worst is over. My worry is that this may be misleading, because the much bigger -- and often smarter -- currency markets are less reassuring.