A Hobbit Won't Help With Your Oxygen Mask
Why is Air New Zealand using orcs to demonstrate safety techniques? The answer has more to do with marketing than safety. 
by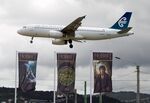 Can Bilbo Baggins keep you safe at 35,000 feet? Air New Zealand apparently thinks so: For the second time in two years, it has produced a big-budget, Middle Earth-themed, preflight safety video to grab the attention of passengers who've seen too many preflight safety videos. More than four minutes long and grandly titled "The Most Epic Safety Video Ever Made," actors and orcs from the "Hobbit" films demonstrate where to stow bags, how to use a seat belt, and where the oxygen mask is located.