A Blogger Backlash in Beijing
By singling out a fact-challenged, xenophobic Chinese blogger for praise, Xi Jinping has stirred up a hornets' nest of anger behind the Great Firewall.
by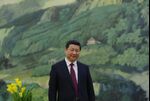 Since taking office, President Xi Jinping has tried to rein in China's once-raucous online culture. He's targeted netizens who have particularly large followings (and less-than-adulatory things to say about the Communist Party). He's blocked foreign news websites and Instagram. Most recently, he's clamped down on the popular streaming services through which Chinese satisfy their cravings for foreign films and sitcoms like "The Big Bang Theory."
Xi's online campaigns don't seem to have dented his popularity among young Chinese as much as one might expect. No doubt this has something to do with the fact that he's also cracked down on corrupt Party cadres, who are universally loathed. And Xi's tough-guy assertiveness abroad plays well among the young and patriotic.
In recent weeks, however, that generally positive feeling seems to have given way to a more skeptical view of Xi. The shift became most apparent two weeks ago, at a high-level seminar on arts and literature held in Beijing on Oct. 16. During the meeting, Xi praised Tolstoy, Hemingway, and other foreign and Chinese authors whom he'd enjoyed over the years. Then, in a surprising turn, he went on to single out for praise Zhou Xiaoping, a baby-faced 33-year-old blogger whose posts combine calls for Chinese pride and renewal with error-filled, xenophobic screeds.
In what is perhaps Zhou's most celebrated post, he wrote earlier this year: "America has long used the Internet to poison Chinese civilization and manipulate public opinion to influence politics." On Chinese social media, such blog posts are typically derided as toadying, marginal, and reactionary -- the work of pro-government trolls with little interest in acknowledging the Communist Party's failures. For Xi, however, this wasn't worth condemning. Instead he encouraged Zhou (and another, less notorious blogger) to continue spreading "positive energy."
Worse still, Xi's government then promptly squelched any online reaction to his strange endorsement Censors took down a devastating fact check of Zhou by blogger Fang Zhouzhi (no stranger to controversy, either) -- and, for good measure, deleted his microblogging account. Searches for Zhou's name on Sina Weibo now generally turn up nothing but his personal account.
As a distant and impersonal regulator of the Internet, Xi could remain somewhat aloof from personal criticism. By championing a not particularly well-liked figure from the blogosphere, however, he seems to have touched a nerve among users accustomed to a relatively freewheeling online debate. "Since this a discussion about patriotism, everyone should have a right to speak," wrote one outraged user of Sina Weibo, whose comment has remained uncensored. "You can't just let the official media outlets speak in favor of Zhou, and shut down the opposition."
From afar, such anger might seem a touch overdone. Whether they like to admit it or not, China's bloggers already operate within a tight web of control and censorship. Yet Zhou's outright fabrications clearly contravene the gentleman's rules of Chinese online debate -- and thus hardly seem a model worth emulating. Lan Xi, a popular Beijing blogger, angrily denied that jealousy had played into his criticism of Xi's favorite new blogger. "Jealousy isn't what inspires disgust at Zhou Xiaoping," he wrote on his Sina Weibo account last week. "It's the feeling that we're regressing."
It's not hard to imagine why Xi, who has blamed insidious "foreign hands" for recent pro-democracy protests in Hong Kong, chose to praise the hyper-nationalist Zhou. The online backlash, though, is a good reminder that young Chinese -- however patriotic they may be -- are no longer interested in being told what writers to read and what ideas to adopt. Too bad Xi can't erase his own comments as easily as those of his irked citizens.
This column does not necessarily reflect the opinion of Bloomberg View's editorial board or Bloomberg LP, its owners and investors.
To contact the author on this story:
Adam Minter at aminter@bloomberg.net
To contact the editor on this story:
Nisid Hajari at nhajari@bloomberg.net
Before it's here, it's on the Bloomberg Terminal.
LEARN MORE