Editorial Board
Will Brazil Mean Business?
If Dilma Rousseff really wants to be a better president, her cabinet shake-up is a good place to start.
by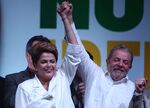 In her victory speech after narrowly winning re-election to a second term Sunday, Dilma Rousseff said, "I want to be a much better president than I have been until now." That shouldn't be too hard; she has presided over an era of political division and economic stagnation. Luckily, Rousseff has two quick opportunities to show she means it.