How to Beat Nate Silver, Revisited
Political forecasters can quantify a district's partisan bent and national trends. They can't quantify a candidate's quality.   
by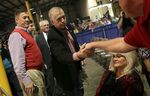 It's a good time to discuss how the quality of individual candidates and campaigns -- as opposed to the party balance of the electorate and national forces -- might affect the midterm election results.