Arab Spring Lives On in Tunisia Vote
Voters in Tunisia chose the secularist party over the Islamic democrats, showing Egypt the democratic way to a transition of power.
by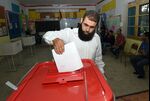 The American diplomat Edward Djerejian once famously remarked that if Islamists were democratically elected to office, the result might be "one man, one vote, one time." Preliminary results from Tunisia's second democratic election show that this concern was unwarranted, at least in Tunisia. The Islamic democrats of Ennahda, who won a plurality in Tunisia's first democratic vote in 2011, appear to have finished second to the secular alternative, Nidaa Tounes. Far from clinging to power, Ennahda conceded defeat even before the results were final. "We have accepted this result, and congratulate the winner Nidaa Tounes," a party official told Reuters.