view
A Nonsensical Republican Budget Plan
Kevin McCarthy wants Republicans to use their new majority to pass a budget after the elections. This idea can't possibly work. 
by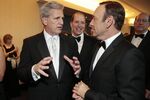 Representative Kevin McCarthy, the House majority leader, says that he wants to pass a budget for next year soon after the midterm elections. Then Republicans -- whom he hopes will be in charge of the Senate as well as the House next year -- can work on bigger legislation to "prove we could govern."
I don't see how this can possibly work. I think it's a mistake for Republicans to try to "prove they can govern" once they have a narrow majority in the Senate, because they can't, in fact, govern with that majority. All they can do is show they have a governing agenda, which is a different matter.
But leave that aside and focus on the first step of McCarthy's plan: passing a year-long budget in the lame-duck session of Congress, between the elections on Nov. 4 and the seating of newly elected legislators in January.
Let's say Republicans win the Senate. Everyone will assume they're likely to control Congress for only two years, given the number of vulnerable Republican Senate seats up in 2016. McCarthy will be asking Republicans to give up some of their control over the budget in that period by working with a Democratic Senate that's on its way out.
Does that sound like something that conservatives in Congress will meekly accept?
Passing a year-long budget will also mean giving up the ability to attach conditions to short-term spending bills. Republicans are worried -- rightly, in my view -- that President Barack Obama will abuse his executive powers to make policy, for example by legalizing a lot of illegal immigrants without legislative authorization. As long as they don't pass a year-long budget, Republicans can try to use short-term spending bills to thwart Obama when such issues arise. They won't always succeed, but they're not going to want to give up that leverage either.
Doubtless, the desire to pass a budget in the lame-duck session is motivated by fear of a fiscal standoff next year that leads to a government shutdown. A shutdown is worth avoiding. That doesn't mean McCarthy's preferred strategy for avoiding it is going to succeed.
To contact the author on this story:
Ramesh Ponnuru at rponnuru@bloomberg.net
To contact the editor on this story:
Timothy Lavin at tlavin1@bloomberg.net
Before it's here, it's on the Bloomberg Terminal.
LEARN MORE