Venezuela's Hollow Victory at the UN
Venezuela's Bolivarian blather doesn't represent Latin America.
by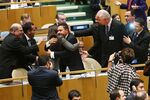 Imagine the relief in Caracas recently when Venezuela won a seat on the United Nations Security Council. True, it was only a two-year assignment, and a diplomatic formality (Latin nations take turns at the head table). Still, the honor came at a critical moment for a government that has slid from Latin American inspiration to global pariah for its intimidation of critics, economic fumbling and crumbling social pact.