Royals Beat the Giants Before the Game Began
Lineup changes can make all the difference.
by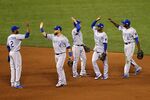 During the 2014 World Series, Bloomberg View columnists Jonathan Bernstein and Kavitha A. Davidson will discuss, debate and dissect the happenings on and off the diamond. Kavitha is under the weather today, so Jonathan is solo.