Testing Europe's Stress Tests
Europe's banks might actually be more than $600 billion short of the capital they would need in a severe crisis.
by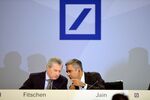 On Sunday, the European Central Bank will publish the results of stress tests designed to restore much-needed confidence in the euro area's financial system. To succeed, the ECB must convince investors that it has truly forced banks to recognize their losses and raise enough capital to be healthy.
What would a really tough stress test look like?
Research by economists at Switzerland's Center for Risk Management at Lausanne offers an indication. By simulating the way the market value of banks' equity tends to behave in times of stress, they estimate how much capital banks would need to raise in a severe crisis.
The answer, as of Oct. 17, for just 37 of the roughly 130 banks included in the ECB's exercise: 487 billion euros ($616 billion). Deutsche Bank, three big French banks and ING Groep NV of the Netherlands are among those with the largest estimated shortfalls.
Here's a breakdown by bank:

And here's a breakdown by country, as a percentage of gross domestic product:

The economists' approach, based on a model developed at New York University, isn't perfect. It could, for example, overestimate capital needs if the quality of banks' management and assets has improved in ways that the market has yet to recognize. And, because crises are rare, the modelers had scant historical data with which to build estimates of how banks might fare in future disasters.
That said, this relatively simple model has some important advantages over the ECB's much more labor-intensive stress tests. The Swiss group's approach is free of the political considerations that constrain the ECB, which can't be too harsh for fear of reigniting the European financial crisis. In addition, the model implicitly includes crucial contagion effects, such as forced asset sales and credit freezes, that the ECB's exercise ignores.
A bit of back-testing suggests that the economists' approach works relatively well. The NYU model's projection for the largest U.S. banks' stressed capital needs before the 2008 crisis, for example, comes pretty close to the roughly $400 billion that the banks actually had to raise. If the ECB's number is a lot smaller than the figure the model comes up with -- as early indications suggest it will be -- that won't be a good sign.
This column does not necessarily reflect the opinion of Bloomberg View's editorial board or Bloomberg LP, its owners and investors.